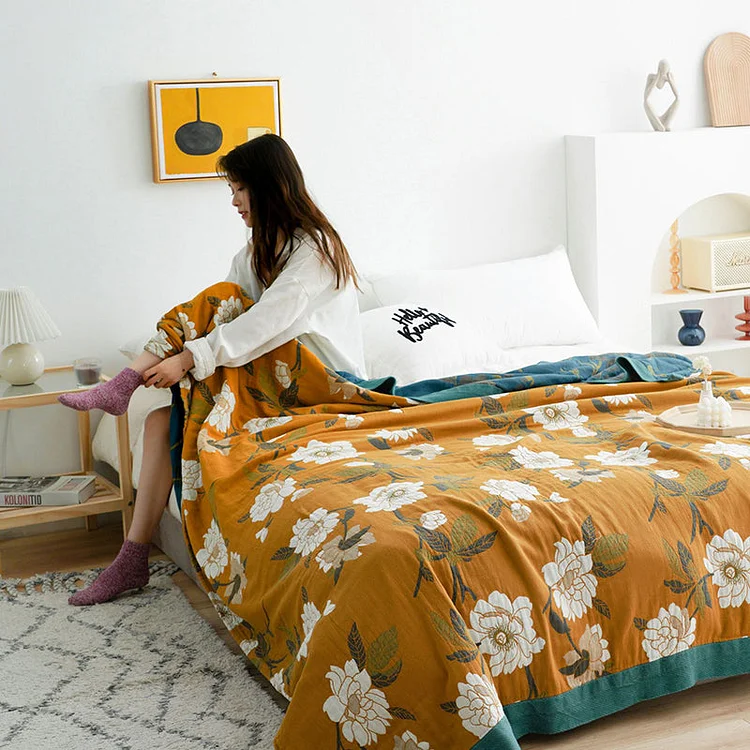 Materials: Cotton
Size: 150*200 centimeters, 230*200

centimeters, 230*250 centimeters
  Beautiful soft cotton muslin blanket with a bright pop of colors. Lovely blue with yellow flowers.. This blanket is 100% cotton. The 4 layer Cotton Muslin makes it incredibly soft and breathable. This blanket is 100% cotton. Formaldehyde-free, no aromatic amine, no fluorescent agent
Great to have at home, to keep you warm and cozy on those chilly nights.
* Double-sided design.
* Soft & Durable, Skin-friendly, Better Moisture Absorption, Air Permeability
* Material does not fuzz , no pilling and no color fading
Various sizes available :
We measure manually so please allow ±2cm error
Your blanket should only get better with age and we stand by our products. The more it is washed, the higher in the softness.
Care Instruction :
✱ Cold Wash Recommended, Tumble Dry on Low
✱ Professional Dry Clean
✱ 2-3% shrinkage rate is generally recorded over time for blanket.
✱ Due to packing, your blanket might arrive creased. Simply leave it unfolded for a couple of days or steam iron it.
We ship within 1-3 business day. International shipping time is around 3 weeks to most parts of the world. We hope our quality products and value for money prices will make the wait worth it 😊